Tropical Beach Resorts in Siesta Key: Amenities FAQ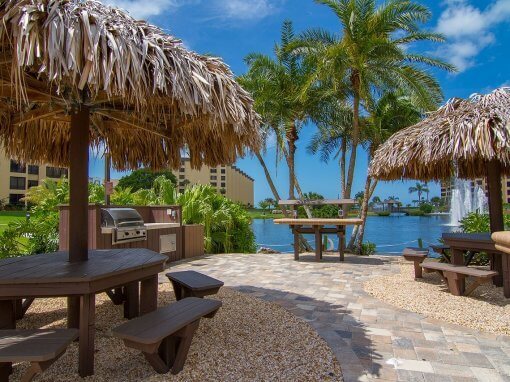 As you research different tropical beach resorts in Siesta Key, naturally you'll explore amenities to see what's in store for you and your guests. To assist you with your fact-finding, we're pleased to provide you with this amenities FAQ that addresses some of the most common inquiries that we receive.
Of course, if your specific question or questions aren't listed below, please contact us at GBC@SiestaKey.com for a fast and friendly response.
Do all tropical beach resorts in Siesta Key provide amenities?
Not necessarily. Technically, the term "amenities" can refer to anything from a soda machine to tennis courts (by the way we offer 8 tennis courts if you're eager to work on your game, or if you always wanted to learn!). To avoid disappointment and "paying more for less," ensure that any prospective tropical resort provides you with an accurate list of amenities. To see our world-class offerings, please click here.
Are your amenities free, or is there an additional fee?
All of our amenities — including our clubhouses, swimming pools , saunas, tennis courts, fitness club, and the list goes on — are completely free, and included in your purchase or rental fee. In addition, all units, clubhouses and pools offer free wifi.  Enjoy them as much as you want, as often as you want!
Can non-members access any of your amenities?
No, they cannot. Unlike some tropical beach resorts in Siesta Key, we don't sell access to our private community to local residents, or to people who are staying elsewhere (e.g. business travelers, tour groups, etc.). Our amenities are exclusively reserved for our members who own or rent our condos.
Can my guests access the amenities?
Of course! You're welcome to invite your guests to go for a swim, play some basketball or tennis, go for a stroll on our private 800 foot beach, watch the big game in the clubhouse, have a barbeque, and so on. However, we do ask that you accompany your guests while they're visiting.
Do you offer social events?
Yes, we offer many scheduled social events throughout the year, as well as golf and tennis tournaments for both men and women. Please inquire to see what's on our calendar for the weeks and months ahead.
What if I need to get some work done. Is there a space for that?
Certainly! If you don't feel like working in your condo, you can head to our clubhouse library and enjoy quiet, productive time (and whenever you feel like a break, you can have a drink, bite to eat, watch some TV, or play some pool!). We also offer free Wi-Fi access in both clubhouses and at all 3 pools if you want to surf the web, check email, and so on. Just don't work too hard, because we want you to have fun and relax as you enjoy the best of the best tropical beach resorts in Siesta Key!
What if I want to stay fit and healthy?
Not to worry, we have you covered: simply head over to our state-of-the-art fitness center and take your health and wellness to the next level. We also offer free weights, a yoga room, 6 dry saunas, a hot tub that is perfect for relaxing tight muscles, and 3 large heated pools (including 1 lap pool). You can also enjoy a walk or run on our private beach, or head next door to Siesta Key Public Beach which TripAdvisor ranked as the #1 beach in the U.S.
To learn more about what sets our tropical beach resorts in Siesta Key apart, please browse our resort amenities and then contact us for a private showing.